The hammer crusher is mainly used in the common crushing process, which can crush the ore of 600-1800mm size into the one whose particle size is or below 25mm. It is mainly used in the crushing production line, the sand making production line, and so on. Besides, it can substitute for the cone crusher. Some points should be noticed in the usage process of the hammer crusher: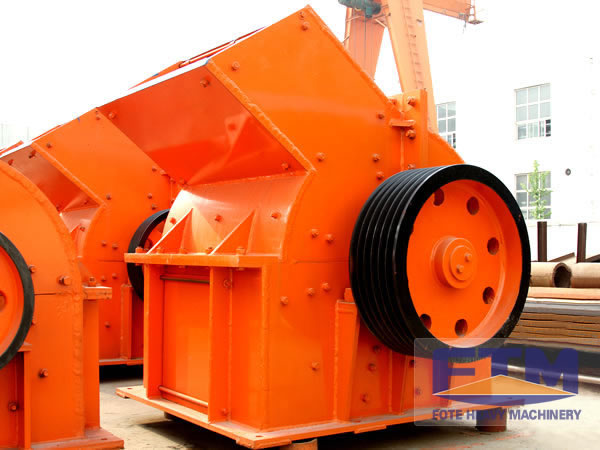 1. The hammer crusher breaks the material with the high-speed rotating hammerheads. Therefore, it should be strict with the installation of the base and the rotating shaft.
2. The space between the hammerhead and the grate of the hammer crusher can be determined according to the required particle size of the final product, which can be adjusted by the two eccentric wheels at the bottom of the grate. When the material particle size is 5mm, this space can be adjusted to 10-15mm. When the required particle size is 10mm, the space can be 15-25mm. Besides, the gaps of the grate itself can also be adjusted according to the required particle size, in a certain range, by adding or reducing the gaskets.
3. In the usage process of the hammer crusher, the abrasion situation of its parts should be examined regularly, including the lining plate, hammerhead, grate, and so on. If it is necessary, they should be replaced in time. If the hammerhead has been worn, it can be fixed by the surfacing with the alloy rods then it can be used continually. However, the surfacing should be of symmetric equilibrium. Otherwise, the equipment will be in the unbalanced operation, which will lead to the severe vibration.
4. The hammerheads should be replaced in pairs according to the relative positions. Otherwise, the rotor may rotate out of balance.
5. The highest temperature of the bearings of the rotor must not surpass 70℃. If so, the equipment should be stopped immediately to be examined.
6. If the bearing box is lubricated by light oil, the bearing should be lubricated once every 8 hours' operation. The height of the oil surface should be kept at the center of the ball at the lowest position. Besides, the lubricant should be replaced once every three months. If the bearing box is lubricated by dry oil, the dry oil cup lid should be screwed for 2 to 3 times in each shift and the dry oil of certain amount is added into to the bearing box. And the box should be cleaned once every half a year.