The flotation machine is applied to the separation of ferrous metal and nonmetal like talcum. Its rotating impellers driven by the triangular belt of the electric motor can produce centrifugal effect to form negative pressure. On one hand, enough air is absorbed to mix with ore pulp. On the other hand, the ore pulp can be mixed with the agent by the impellers. Meanwhile, the froth can be refined to make the mineral be on the froth and float on the surface of the ore pulp to form mineralized froth. The height of the flashboard should be adjusted to control the liquid level, which can make the useless froth be scraped off by the scrapers. Next, some tips of the maintenance of the flotation machine are introduced by Fote to you: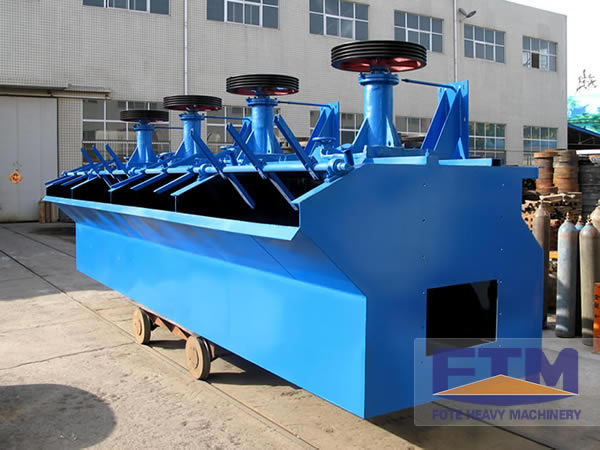 1. As the same as those of the other machines, the flotation machine's capacity and service life are determined by its maintenance and the normal operation of its major parts. The flotation machine should be examined seriously once every 3-4 months. However, at the beginning months of the operation of the new flotation machine, it should be examined frequently.
2. Only the experienced staff can examine the flotation machine.
3. In order to replace the quick-wear parts in time and to shorten the downtime of the flotation machine, the complete set of quick-wear parts must often be stored in the warehouse. The service life and the storage quantity of the quick-wear pars are determined by the actual situation.
4. Some technical guidance or training for the operators of flotation machines must be guaranteed to try to make them be familiar with the machine comprehensively.
5. In order to avoid that some dirty or useless matters are going into the oil, there should be a filter when the oil is sent into the machine. At the operation of the flotation machine, the oil lid should be sealed.
6. Before the start of the flotation machine, it should be examined to make sure that both of the previous machine and the following machine are connected with the flotation machine well. Then, the flotation machine can be started.
7. The starting order of the flotation machine is to press the paddle switch and the start button in succession.
8. After the start of the flotation machine, the rotating parts of it must not be touched with hands.