The Introduction of Single-cylinder Hydraulic Cone Crusher
Single-cylinder hydraulic cone crusher, with advanced design structure and many performance advantages, is developed by Fote through combining with the advanced foreign crushing technology. It can reach many kinds of functions through optimizing and improving the whole structure of the crusher. The functions are mainly including adjusting discharging port, cleaning chamber, over entering iron and multiple overload protection, which bring more convenience for production and process. This cone crusher has wide application range, such as ferrous metal ores, nonferrous metals ores, non-metallic ores and other industrial fields. According to the user's actual operation practices, we sum up the following outstanding performance advantages.
The Performance Advantages of Single-cylinder Hydraulic Cone Crusher
Single-cylinder hydraulic cone crusher has many advantages, which mainly has a lot of reasons, such as the design of structure, the making material of equipment, the advancement of technology and so on. The following content is the detailed introduction of the performance advantages.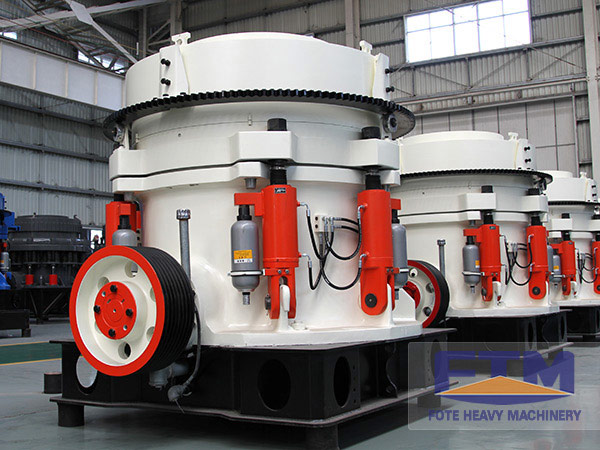 1. Big Production Capacity
The yield is improved by 35%-60% than that of the traditional cone crusher because of the reasonable design of the crushing chamber. Of course, there are also other reasons, such as the quality of equipment, every component, design concept and so on. The reasonable combination of those elements can make the crusher has bigger production capacity and the performance more excellent than that of the traditional equipment.
2. High Efficiency
The design of the main axis is very reasonable, so it can bear large crushing force, and make the crusher has higher crushing efficiency.
3. Uniform Granularity of Finished Products
After being process, the finished products' granularity is uniform, better quality, and no impurities, so the finished products can be sold with a satisfied price by our users, and the profit can be improved greatly.
4. Easy Maintenance
This crusher is very easy to maintain because of the good structure sealing capacity and compact structure, which can save users' maintaining cost.
5. Long Using Lifespan
Fote chooses the high-quality materials to make single-cylinder hydraulic cone crusher through reasonable design. As a result, the using lifespan will be extent, and users can save a lot of cost.
Fote single-cylinder hydraulic cone crusher is usually used in production and processing enterprises with big, middle and small scale. Through the years of practical proving, the performance of this cone crusher is better than that of the traditional crushing equipment, and it can create higher profit for more users.
Welcome to order and purchase our machine.