Every mineral processing enterprise wants its product to be the best. Thus, techniques should be paid much attention to because the product can be of good quality by strong techniques. People are very strict with the production techniques of the mineral processing equipment, which is the large-scale machinery. Due to the later start of the mineral processing technique in our country, the level in the whole market is not so high. Therefore, we should try to develop our market to provide our clients with a better effect of our products.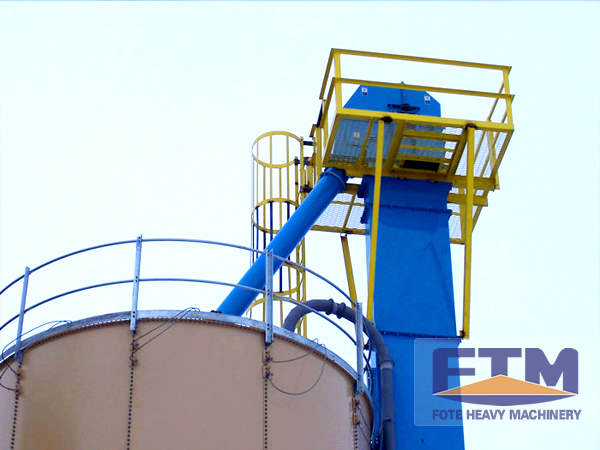 The bucket elevator, as a main equipment in the mineral processing line, may be of the problem that, in the transport process, the material may fall out of it. In general, It is the phenomenon, that the Flange gasket of the machine shell of the bucket elevator has been worn or of leakage, that causes that the material falls out of the gaps at the top or the bottom of the bucket elevator. If the height difference between the feeder machine and the bucket elevator is too big, the feed pressure will increase, which will cause that the material will fall out of the bucket elevator.
In general, the quick-wear parts must be the movable parts. Thus, firstly, the sealing device of the equipment should be examined. And the worn sealing gasket of the bucket elevator should be replaced immediately. The sealant should be smeared on the gap of which the material falls out in order to jam the gap. The Flange bolts should be refastened. The feeding method can be changed. Besides, some buffer devices can be installed near the hopper, which can decrease the pressure generating in the operation of the hopper and can guarantee the stable operation and the high efficiency of the bucket elevator.
Besides, the solder joints at the bottom of the bucket elevator should also be examined to check whether there is the sealing-off phenomenon, which may appear occasionally.
We, Fote Heavy Machinery, pay much attention to the technique of the bucket elevator. We have already realized the self-dependent innovation in most of our equipment and have reached a high level in production , which make Fote become increasingly strong in the market. We export our products to more than 180 countries. We will provide our clients with the best service and the excellent equipment.