The new-type jaw crusher developed by China in recent years, is the latest and high-efficiency crushing equipment, which applies widely in kinds of hard stones for coarse, medium crushing. In order to meet the times' production requirements, it is equipped with the dust-proof device and silencer device, which can effectively reduce the environmental pollution and healthy threat to operation staff. The latest jaw crusher can create the higher profits to users in the market, so, what are the points to invest the new-type jaw crusher? Here, we will give a detailed introduction to our customers.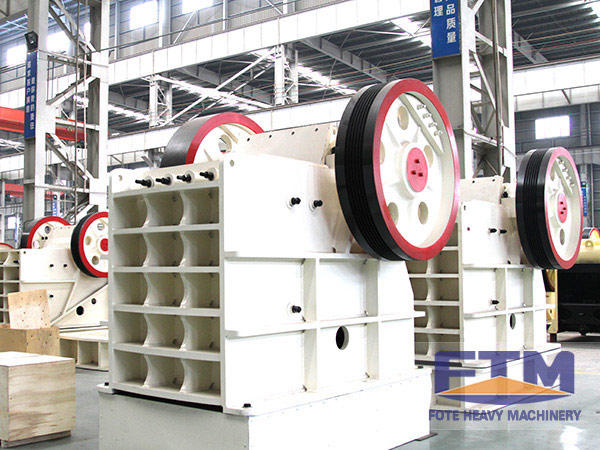 The Reasons Why the Latest Jaw Crusher Is Worthy to Be Invested
1. Design
The new-type jaw crusher uses the advanced design method to improve its volume and reduce the overall area. In addition, its structure is compact, which is convenient for users to install, operate and maintain it, and can save a lot of time and energy. Not only that, but this crusher has the bigger crushing chamber, and it can break the materials without missing, which can make it owns higher crushing efficiency and bigger production in unit time.
2. Environmental protection
In order to advocate the green, healthy development, Fote makes a large improvement in jaw crusher's design. The original equipment is not only added the spray device, but also equipped with the silencer and dust removal device, which can have a double protection on the operating environment to reduce the dust produced in the operating process, and improve the working environment of operators. As the result, we will make a contribution to the environmental protection.
3. Price
Jaw crusher is the broken equipment with long history and reasonable price. It has been over a hundred years from the traditional jaw crusher to the new-type, so it has a large improvement on equipment and performance. However, the market price is not increased obviously, which effectively decreases the investment of customers in the production process, and lets them spend less money to obtain the higher profit.
Trustworthy Manufacturer of the New Type of Jaw Crusher
Fote is an outstanding manufacturer of jaw crusher in the many same industries. We not only own the bigger production scale, but have the stronger production ability, and we can supply more advanced, high-performance equipment for the customers, so Fote gets the great praise of many users in mining market. The machine that we supply not only has higher quality and reliable after-sale guarantee, but the price generally is low, which can effectively reduce the overall cost of customers, and create the more favorable conditions for their higher benefits.
The new-style jaw crusher has various specifications and types, so our customers need to combine with the actual situation to purchase the suitable equipment. If you have any questions, please contact us online, and then our experts will give you the professional suggestion.