The impact crusher is a new kind of crushing equipment of high efficiency. The volume of it is small and its structure is simple. It has high crushing ratio. Its energy consumption is little and the production capacity is large. The finished products are of uniform size. With these advantages, the impact crusher is a promising equipment. The biggest shortcoming of the impact crusher is that the plate hammers and the impact plates are easy to be worn. Especially when the hard ore is being crushed, the wear degree is more serious. Thus they need to be replaced frequently. Recently, there are some wear-resistant materials and they have been applied to some metal beneficiation plants.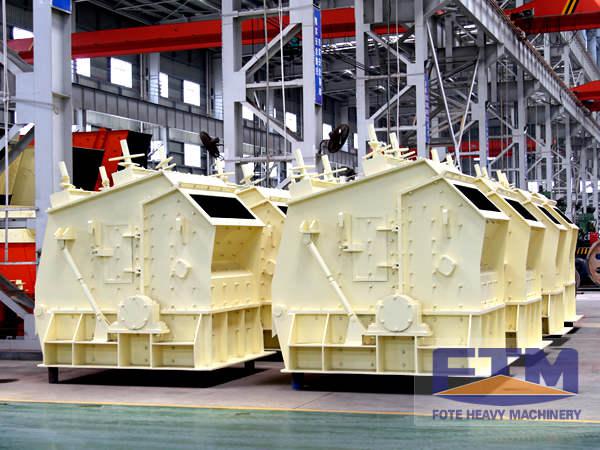 Impact crushers are often applied to secondary crushing. The feeding size of an impact crusher is smaller than that of a jaw crusher. According to the requirements of users, the impact crusher can also be regarded as the sand maker to do coarse crushing. It is widely used in many fields, such as the expressway, the reservoir, the railway, the airport construction. In these fields, the rock of cubic shape is needed. The impact crusher has many good properties. It has high capacity, high reduction ratio, and high performance. The finished products are cubic.
The working principle of impact crushers is similar to that of hammer crushers. When the materials are put into the feed inlet of the impact crusher, they are falling on the high-speed rotating rotor. Then they will be broken by the hard alloy hammer heads on the rotor. Next, the broken materials hit the first impact plate at high speed, which makes them be broken again. The first impact plate makes the ore be hit back and hit the other ore. This process has to be repeated. Until the size of the crushed materials is what we want, we can get the final products.