As is known to all, in general, the electromagnetic vibrating feeder is in operation by the electromagnet. The feed chute is driven by the electromagnet. And the feed chute vibrates, back and forth, along the incline and a straight line. When the vertical component(N) of the vibration acceleration of the feed chute is more than the gravity acceleration(G), the material inside the chute will be bounced. And it will bounce forward along the parabolic track. It takes the material one fiftieth seconds to be bounced then fall down each time. Each time when the feed chute vibrates, the material will be bounced at a time. The chute body vibrates for 3000 times per minute. Accordingly, the material will also be bounced continuously and jump forward. Finally, it can finish the task of feeding material into other machines.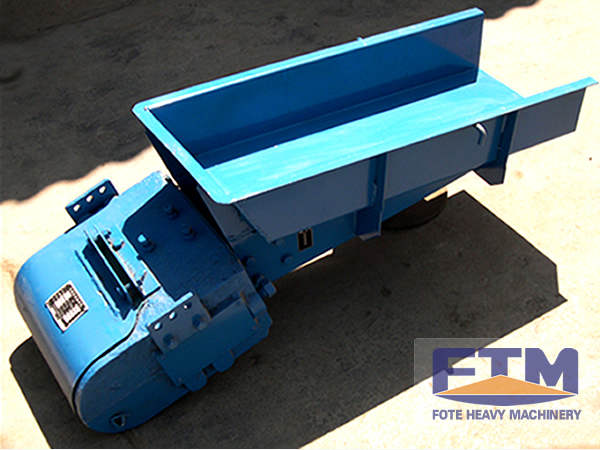 In the usage process of the electromagnetic vibrating feeder, there are four bolts, on the electromagnetic vibrating feeder, which need to be adjusted. When the bolts have been loosened by the spanner, they should be locked down by the nuts in reserve. Then the feeder will vibrate, which can make the material inside the chute body jump forward. There is a current button on the control box of the electromagnetic vibrating feeder, which can adjust the vibration amplitude of the feeder and can increase or decrease the feeding capacity of the feeder.
The electromagnetic vibrating feeder, made by Fote Heavy Machinery, is of several advantages. It is of small volume and it is light. The structure of it is simple. It is convenient for people to install it. There is no rotating parts of it. And it is unnecessary for people to lubricate it. Besides, it is convenient for maintenance. And the running cost of it is low.