As a common crushing equipment, the jaw crusher is applied to many industries, such as mining, metallurgy, building material, highway, railway, water conservancy, chemical engineering, and so on. It can crush the material, the compression strength of which is less than 320Mpa. There are two kinds of jaw crushers, including the PE jaw crusher and the PEX one. With the introduction of the advanced crushing technique and research, on the base of the design and manufacturing experience of the traditional jaw crusher, the jaw crusher of a new generation has been developed, which has many features, such as big crushing ratio, high output, even particle size of the final product, simple structure, reliable operation, simple maintenance, low running cost, etc. As a common crushing equipment, it is widely used. However, the start-up preparation of the jaw crusher is focused on a lot by the market.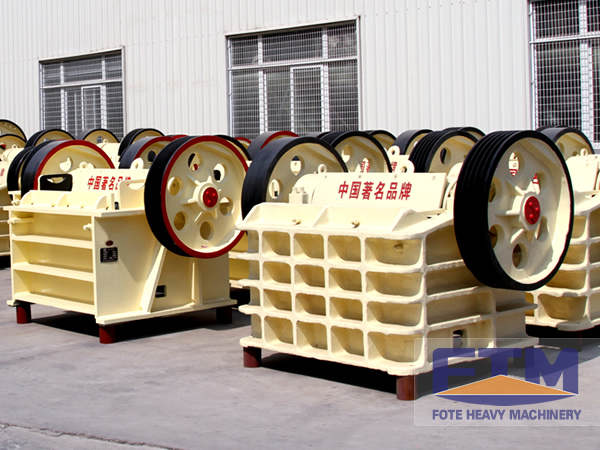 Before the start of the jaw crusher, it should be ensured firstly that the connector and the fastening bolt are not loose. There is no auxiliary parts of the jaw crusher so that its integrity should be guaranteed. Secondly, it should be checked whether there are some chips inside the crushing cavity. Finally, when all these mentioned above have been finished the jaw crusher can be started. Since the start of the main motor of the jaw crusher, it should be guaranteed that the material is fed into the jaw crusher evenly. The temperature of the bearing of the machine should keep in a certain degree, which can not be excessively high. Besides, if the reason why there is tripping operation still can not be found out, the machine must not be started.
All mentioned above is the description of the start-up preparation of the jaw crusher. As a professional manufacturer, Fote Heavy Machinery also excels in many other equipment, such as the impact crusher, cone crusher, hammer crusher, roll crusher, and the mobile crusher, and so on. If you want to get to know more about our machines, you are welcomed to chat with our experts online or to leave a message to us. We are going to connect with you as soon as possible.