The aggregate production line is used to crush some kind of stone like hard limestone to produce artificial sand, the sand used for building, and concrete aggregate. It is widely used in many industries, such as water conservancy and electric power, building material, road, urban construction, and so on. It is a kind of high-efficiency and energy-saving gravel production equipment. After several years' constant research and development, we, Fote Heavy Machinery, have successfully developed a new kind of aggregate production line, which is of higher productivity and higher quality of the final product. This production line mainly consists of the jaw crusher, the impact crusher, the sand maker, the vibrating screen, sand washer, belt conveyor, the centralized electronic control device, etc. The production capacity of it is, at least, 50 tons per hour. It can reach 1000 tons per hour at most.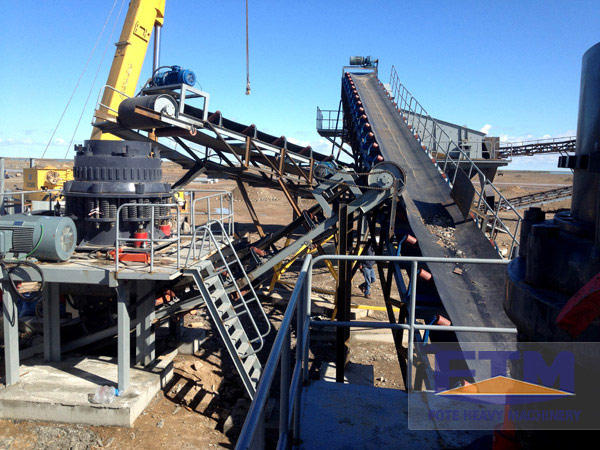 There also many applications of this new production line. For example, it can be used to dispose the building waste. The working time has been prolonged due to its existence, which is ten times longer than that of the previous production line. The property of this production line has already reached the advanced level. So far, it is an efficient and reliable equipment. However, in recent years, with the increasing lack of natural sand, there should be a new source of sand like artificial sand. This problem can be dealt with by the new aggregate processing and production line, which can realize the sustainable development in economy and environment.
Series 1-Single Fixed Machine: jaw crusher, hydraulic cone crusher, impact crusher, VSI sand maker, vibrating screen, sand washer, etc.
Series 2-Complete Production Line: stone production line, gravel production line, sand production line.
Series 3-Rubber-tyred Mobile Crusher & Crawler Mobile Crushing Station: mobile jaw crusher, mobile cone crusher, mobile impact crusher, and other mobile screening equipment.
Series 4-Environmental Protection Equipment: building waste and concrete dust recycling plant.