In the glass industry, the hammer crusher is widely used in the secondary or fine crushing operation of the crispy materials and the ones with the medium hardness, such as feldspar, fluorite, limestone, dolomite, and so on.
The hammer crusher can be divided into the one with single rotor and the one with double rotors. And the hammer crusher with single rotor can also be divided into the irreversible one and the reversible one. According to the number of the rows of the hammerheads, the hammer crusher can be divided into the single-row hammer crusher and the multi-row hammer crusher. The specification of a hammer crusher is indicated by the diameter(D) of the circle, which is the rotation track of the hammerhead, and the length(L), which is the effective length of the rotor. In general, it is indicated as D/L=0.5-8.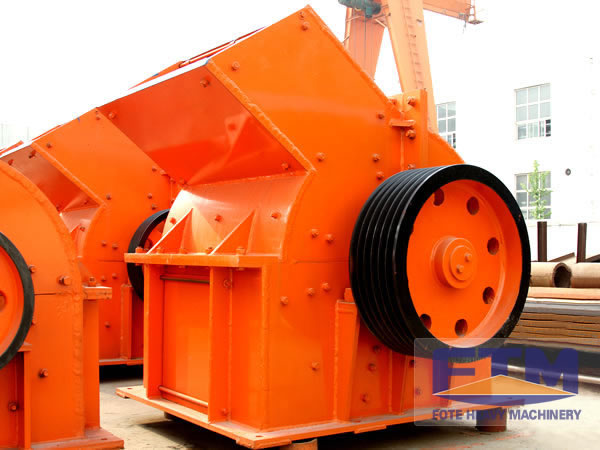 The hammer crusher is used to crush the material with the rotating hammerheads at a high speed. The material will be crushed and broken by the high-speed rotating hammerheads as soon as it is sent into the machine. The crushed material with the kinetic energy generating from the hammerheads will hit onto the lining plate and the grate of the inner wall of the machine shell at a high speed, which is the secondary crushing operation. Then, the crushed material with the size, which is smaller than the size of a gap of the grate, will be discharged from the gaps while the bigger one will be hit back into the rotation track of the hammerheads to be crushed again by them. Besides, the particles fallen upon the lining plate and the grate will be ground again by the hammerheads. In the crushing process, the materials also hit with each other.
The biggest advantage of the hammer crusher is that its crushing ratio is high. Besides, its structure is simple and compact and its power consumption is less. It is convenient for maintenance, repair, and the replacement of quick-wear parts. The particle size of its final product is uniform. However, some parts may be worn quickly like the hammerhead, especially when the machine is used to crush hard materials. When there is too much moisture or clay of the material, it is probable that the gap of the grate gets stuck, which will lower the productivity and increase the power consumption and the parts abrasion.