Recently, the sand production lines of many domestic projects are circulation processes. However, when the efficiency of sand production is low, the most products will be sent into the cone crusher again after the screening process, which can increase the crushing intensity and strengthen the cooperation between different machines. Thus, to turn the most products into the finished products and use the few ones to adjust the gradation of products is the most economical method.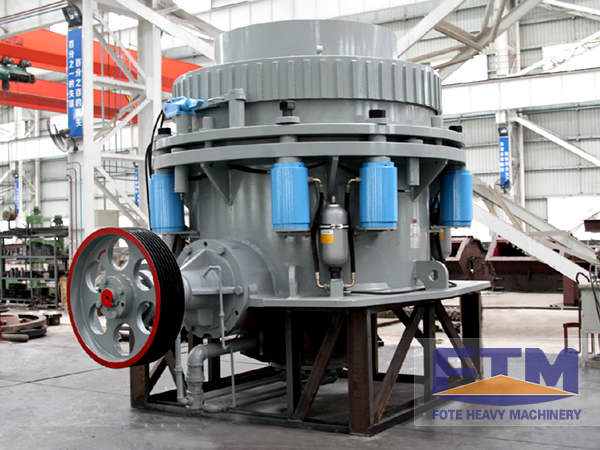 In recent years, mines have been much more exploited. As for the mining of the valuable natural mineral resources artificially or mechanically, the most important thing is to crush ores and process ores and to apply the finished products to many industries, such as metallurgy, construction, chemical engineering, and so on. With the increase of the demand of the national construction and the development of the infrastructure, the demand of gravel materials and the relevant crushing machinery is increasing rapidly. Therefore, the market of cone crushers is promising.
Compared with the traditional crushing equipment, the cone crusher, as a kind of fine crushing equipment used to process materials, has many advantages. Its crushing ratio is high. The particle of its finished products is fine and its particle size is uniform. It is of low energy consumption. The cone crusher can crush friable materials of any kinds of hardness. Thus, it is an ideal ultra-fine crushing equipment, which is of energy conservation.
In essence, because of the excellent design and the property of the cone crusher, it can be widely used in crushing industry. The cone crusher has a very large market in our country. It is used in mining, construction, water conservancy, chemical engineering, metallurgy, coal, glass, and other industries. In our country, the most important fields in which cone crushers can be used are cement industry, paving, and mining.
The more intelligent cone crusher, made by Fote Heavy Machinery, has the modern appearance design, higher crushing ratio, and stronger structure. Besides, there is a prominent development and improvement of the intelligent cone crusher in several aspects like the interaction of the operator and the machine, the automatic control, and the detection and conduct.