As is known to the people who are familiar with mining machinery industry, the cone crusher is one of the common machines, which is mainly used in the secondary and fine crushing process of iron ore, basalt, granite, pebble, marble, quartz, and so on. Because the cone crusher can be used to conduct the crushing operation, it is widely used in the stone production line and the sand production line. The cone crusher has gotten more and more praise from the enterprises in mining industry and construction industry. Then, where can you find the manufacturer of the cone crusher of high cost performance? It can be determined by the requirements of clients. As a professional crushing machine manufacturer, we, Fote Heavy Machinery, expert in the production and supply of the cone crusher of high cost performance.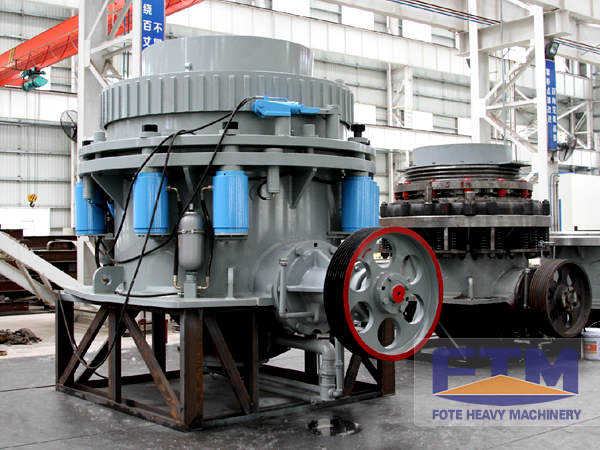 What is the selection standard of a cone crusher manufacturer? There are some common standards, including the price of the cone crusher, the quality of it, its performance, the after-sale service, and so on. When you are going to purchase a cone crusher, you should go to find the professional cone crusher manufacturer with the competitive price. Firstly, there should be an excellent technical study group of cone crushers in the cone crusher manufacturer that you select. Secondly, there should be a strict quality control system of the cone crusher, which can guarantee that the cone crusher is of the excellent performance and endurable wear-resistant parts. Last, you should ask the manufacturer whether their after-sale service is complete, whether they can help in the plant construction and machinery installation, or whether they can provide you with the operating instruction and lifetime maintenance.
With the constant innovation of technology, the types of cone crushers are constantly increasing, including the spring cone crusher, high-efficiency cone crusher, compound cone crusher, hydraulic cone crusher, and so on. Different machines have different performances. We recommend you the proper cone crusher according to your concrete requirement. If you are interested in our cone crushers, we welcome you to call us and visit our plant.