The PYB1750 short head cone crusher is in charge of fine crushing, which can break the ore in the range of 100-215mm to 25-50mm at a time, with large crushing ratio and saving energy consumption, whose broken cone has a maximum diameter of 1750mm. This crusher is a good example of high efficiency fine crusher. It can be found in many large, medium-sized rock crackers and construction waste disposal sites.
An example of highly efficient fine crusher
This cone crusher is known as an example of high-efficiency fine crusher, mainly because of its obvious technical advantages, more advanced configuration and design.
1. Upgraded hydraulic system, safer and more efficient
PYB1750 short head cone crusher equipped with advanced hydraulic protection device can achieve immediate overload protection. The protection system also includes oil temperature and oil level integrated sensor, controller, display device, contactor and oil pump motor, which greatly improves the safety and reliability of the whole machine.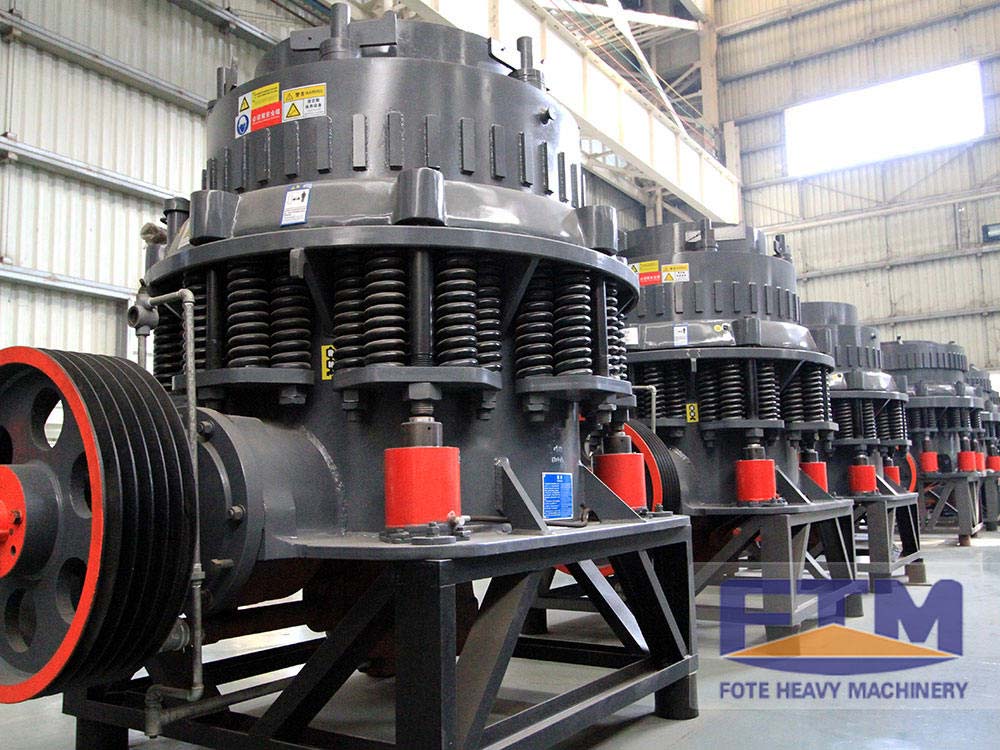 2. Laminated crushing, better grain shape of finished product
The principle of laminated crushing can be used to obtain the finished stone particles of neat shape and uniform and solid size. According to the granularity requirements, it can be divided into four cavities: medium, medium-fine, fine and ultra-fine. The precise and high efficiency operation can be realized by selecting the appropriate chamber and eccentricity.
3. Environmental protection, energy saving and consumption reduction
The cone crusher responds to the call of national energy saving and consumption reduction, low carbon environmental protection, through the installation of advanced silencing and dust removal equipment, greatly reduces the surrounding dust and noise pollution. At the same time, it combines the advanced environmental protection concept of Germany to improve the mining area environment and realize the green production.
4. Unique material selection, precise design, durable
PYB1750 short head cone crusher adopts the control mode of PLC touch screen for real-time monitoring temperature, pressure, current and other core parameters, and automatic control to ensure the safe operation of the equipment. The whole machine is made of foreign advanced wear-resistant materials with precise and unique design and stronger wear resistance, which is durable.
PYB1750 type short head cone crusher is widely used, which can not only form a fixed production line with other equipment, but also be used in moving crusher to become a cone type moving crushing station. HXJQ is a professional manufacturer of PYB1750 short head cone crusher. Please consult our technical staff for more details, and you will get detailed quotation and equipment configuration information!