According to the related materials, there are about 320 million tons of the construction waste in our country every year, which accounts for 40% of the total amount of the urban waste. There are about 200 million tons of the construction waste generating from the removed old buildings while the amount of the one generating from the new buildings is about 120 million tons. Therefore, there will be increasing demand of the equipment for processing construction waste.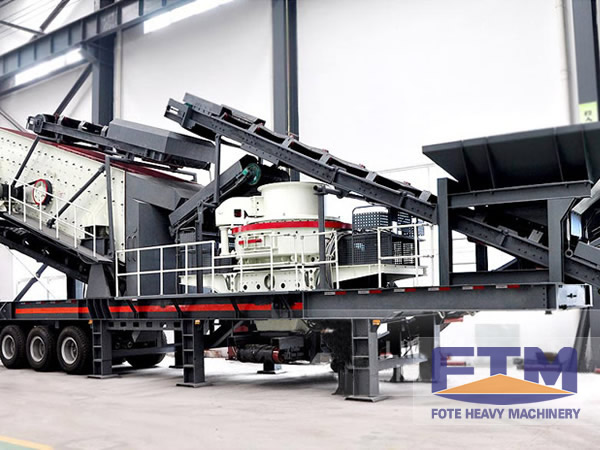 Because the construction projects are in different places in our country, the construction wastes can not be piled intensively. On account of not repeatedly purchasing the same equipment frequently and of saving the comprehensive cost of the equipment, we, Fote Heavy Machinery, have developed the rubber tyred mobile crusher, whose design concept is to remove the troubles in the crushing site, the environment, the complex allocation of the bases of the equipment, and the complex transport. We can provide clients with the cost-effective facilities for their projects.
The major machine of the rubber tyred mobile crusher is the crushing machine, which can be the jaw crusher, impact crusher, cone crusher, or the sand maker. The crushing machine is on the mobile car and the mobile crusher has the compact structure and it is stable and firm, which can make it movable in the operation site or on the highway. The rubber tyred mobile crusher can be combined with other machines of different model numbers rapidly, which can meet different requirements in production operations. Thus, it will be the first choice for the enterprises to crush the urban construction waste.
The rubber tyred mobile crusher, made by Fote Heavy Machinery, has been developed on the base of the several years' experience in the independent research and development, combining the latest requirement of the clients. It is more flexible in the combination of crushing machines, which can make the materials be processed by the close crushing machines.