Recently, there are lots of stone production line sites in our country. There will be more benefits from the gravel aggregate production. Meanwhile, it indicates the bright future of the construction projects in our country.
Among all the equipment in the stone production line, the impact crusher is one of the unnecessary machines. What are the advantages of the impact crusher? We, Fote Heavy Machinery, will introduce the benefit from the impact crusher in the stone production line to you.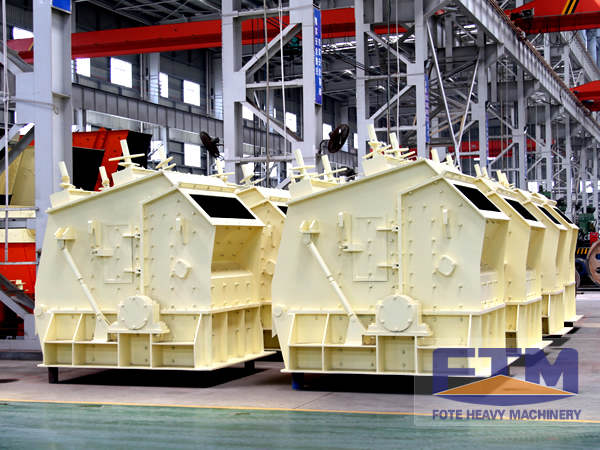 First of all, because of the demand of gravel, the impact crusher was designed. The new-type efficient impact crusher is of lots of advantages, including the small volume, simple structure, large crushing ratio, low energy consumption, and high productivity. The biggest advantage of the impact crusher is that the particle shapes of the final gravels crushed by it are uniform, most of which are of six-sided rhombus, which greatly can meet the international standard of the stone materials for construction and also meet the standard of the materials for the expressway in our country. It is so important that the impact crusher is widely used by lots of users.
Compared with the price of a cone crusher, the price of an impact crusher, which is of the same productivity of the cone crusher, is much cheaper, which can save lots of cost for common investors in order to invest in their other projects. The impact crusher can help the client to get the maximum benefit with the minimum cost.
As a leading enterprise in China, Fote Heavy Machinery insists in the production of a series of mining equipment like the impact crusher, which has been praised by lots of clients. We have the unique experience in the allocation and production of the impact crusher. We will allocate the reasonable equipment for you to optimize your benefit. We will provide you with the best service.