The Introduction of Mobile Crushing Station
Mobile crushing station is a kind of high-efficiency crushing equipment with portable, convenient, high quality and reasonable configuration, and it can work in any environment and field. With the continuous development of industry, the demand of mobile crushing station in the market has become more and more, and the equipment should be configured according to the different sites. We will introduce its classifications and advantages in this news.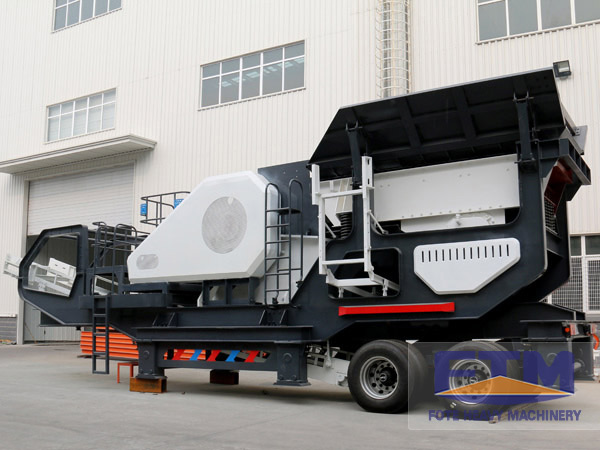 The Classification of Mobile Crushing Station
Mobile crushing station is a multifunctional machine with material feeding, crushing and conveying. It is not only has the higher crushing efficiency, but is convenient to move. The configuring equipment are different because of users' different construction sites. The following content is a simple introduction to its classification.
1. According to the Walking Way
Generally, there are crawler and rubber tyre mobile crushing station following the walking way. The crawler mobile crushing station is very convenient to move, and it can be operated in the harsh environment, which can avoid many troubles.
2. According to the Configuration Method
The configuring equipment is different because of the different materials and users. The users can configure jaw crusher, cone crusher, impact crusher and sand making machine depending on the actual situation to reach the higher profits.
The Advantages of Mobile Crushing Station
1. Strong Mobility: The advantages of rubber tyre mobile crushing station are including short length and wheelbase, and small turning radius, which can be drove flexibly on the regular roads and working areas.
2. Integrated Complete Sets of Units: It can eliminate the complicated installation process, and reduce the downtime. In addition, the reasonable spatial layout improve the flexibility of sites' stationed.
3. Reducing the Transportation Cost of Materials: The materials can be directly processed on site, and it isn't necessary to evacuate the working field, which reduce the transportation cost to a certain extent.
4. Direct & Effective Work: The integrated mobile crushing station can be used independently, and it can also be configured reasonably according to the type of processing materials to satisfy customers' requirements on crushing and screening.
5. Flexible Combination & Strong Adaptability: This equipment can work from crushing to screening, and can also work starting with screening, which is very flexible according to the different requirements of crushing technology.