As we all know, there are different latent defects of ores, which makes it that the most fragile surface of the ore is broken firstly with the severe impact force. However, in the ore crushing process, with the constant decrease of the particle size of the ore, the fragile part of the ore will decrease, which makes the crushed ore harder. Only by higher impact force can the ore be crushed. In order to crush the ores of smaller particle size, the crushing equipment with higher impact force is necessary, such as the hammer crusher and the impact crusher.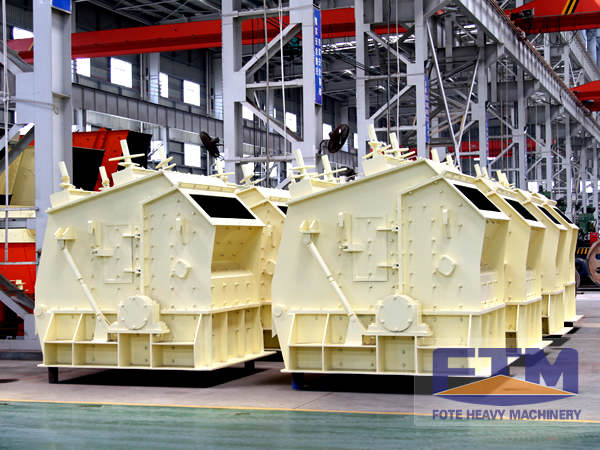 The hammer crusher and the impact crusher both belong to the impact-type crusher, the working principle of which is that, with the hit between the high-speed rotating hammerheads or board hammers and ore, the ore can get a certain motion energy while it is being crushed then it will hit the impact plate or the lining plate again, which can finally produce the gravel with small particle size. Although they have the same working principle, they have different advantages and disadvantages respectively. Firstly, the superiority of the impact crusher is that it can process the ore with high compression strength and compact structure. But, if it instantaneously hits too much ore, some key parts of the impact crusher are probably damaged. Therefore, the biggest defect of the impact crusher is that the feeding size of its handling material can not be too big. Besides, its impact plates and board hammers are probably worn. Nest, the hammer crusher has the excellent adaptability to process the fragile ore of big blocks, which is its biggest advantage. However, the hammer crusher only can be used to process the fragile material of medium hardness. While the hammer crusher is crushing the material with higher compression strength, the whole crushing efficiency will decrease obviously.
According to the suggestion made by the experts of Fote Heavy Machinery, on the basis of having a good knowledge of the advantages and the disadvantages of the hammer crusher and the impact crusher, users can select the proper crushing equipment, which can meet the concrete requirement in the production process. We, Fote Heavy Machinery, have successfully produced a series of hammer crushers and impact crushers like the PCZ hammer crusher. We welcome clients to purchase our equipment.