In recent years, with the constant development of science and technology, the crushing equipment industry in our country is making progress increasingly, especially in the mining machinery industry. According to the demand in the market, a complete products chain has been formed. Some crushing machines are improved constantly, including the cone crusher, the sand maker, the mobile crusher, and so on. The vibrating screen and vibrating feeder are becoming the auxiliary products in the gravel production line. The cone crusher is a common crushing equipment. The cone crusher, made by Fote, combining with the advanced research outcome at home and abroad, can meet the increasing demand in the market.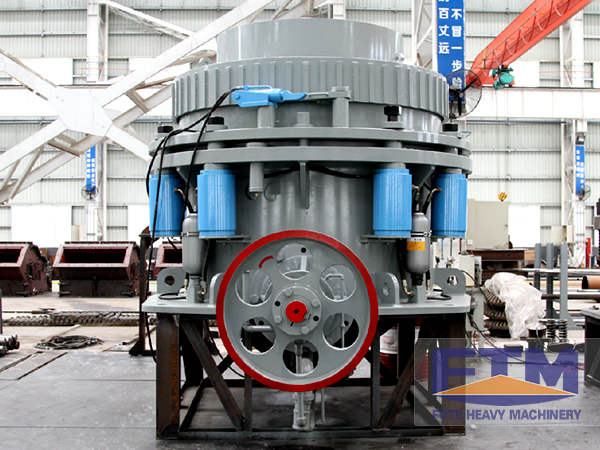 There are a spring safety device and a hydraulic cleaning device. Because of the nice choice of its parts and the reasonable design of its structure, the cone crusher is both economical and practical. In the operation time of the new-type cone crusher, driven by the electric motor, by the triangle belt and the transmission shaft, the eccentric rings of the bevel gear wheel and the small bevel gear are rotating. What is the working principle of our cone crusher? The crushing cone makes the eccentric ring rotate, which makes the crushing wall away from the concave. Thus, the material can be crushed in the crushing cavity formed by the fixed cone and the moving cone. The material will be crushed by the cone crusher for several times. Then, Only when the required particle size has been reached can the final product be discharged form the bottom of the machine.
As a professional manufacturer of the cone crusher, we, Fote Heavy Machinery, have improved the cone crusher a lot. Therefore, our cone crusher has many advantages, such as the high crushing capacity, excellent shape of the final product, long service life of the parts of the machine, low production cost, reasonable structure. And it is convenient for maintenance. Besides, it is reliable in the operation. And it is of the advanced crushing principle and high production efficiency, which makes the cone crusher very welcome in the market.