With the development of the road construction around mines, there are wide applications of crushing machines and the cone crusher is becoming a necessary equipment. According to the requirements in the modern operation flow and process, the cone crusher is applied to crush and break ore, and so on. As a professional manufacturer of cone crushers, Fote insists on updating the techniques of our products to gradually advance the hydraulic cone crusher, the spring cone crusher, which can promote the development of mining machinery industry.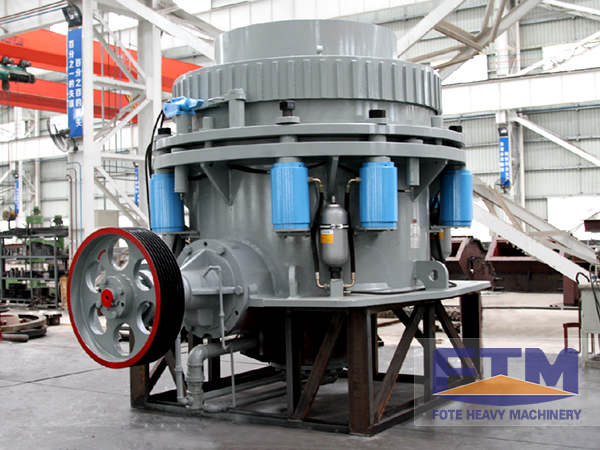 With the further research of the property of slag, combining with the crushing principle, the new-type compound cone crusher has been researched and developed, which is applied to process high-hardness materials, which is of reliable operation and excellent property. According to the particle size of slag and the specification of the final product, with the application of different types of the crushing cavities of the cone crusher, the slag can be processed by the primary crushing process, the secondary crushing process, the fine crushing or the ultra-fine crushing processes. Instead of the PEX jaw crusher, the cone crusher can produce the final product with smaller particle size and it is of high efficiency. The cone crusher is applied to crush hard rock. Besides, it has less quick-wear parts, which can greatly decrease the running cost.
The major components of a cone crusher are the movable cone, the fixed cone, the electric motor, transmission shaft, eccentric sleeve, electric plate, and the spring safety device. The basic working principle of a cone crusher is the compaction effect by the two cones to crush the stone material. As for the innovation and development, Fote should insist on the innovation in itself, its product, the marketing strategies, each part of the production process, the company management, and in the company culture. Any type of innovation will inject new energy into the company to produce a certain kind of new and unique value, which can promote the development of the company. Fote is in the development step by step and, in the industry, it insists on the advance of the techniques of the cone crusher, hydraulic cone crusher, mobile crushing equipment, building waste processing equipment, and so on.