In recent years, the mobile crusher has been welcomed. Now, a brief analysis of the differences between the mobile crusher and the fixed crusher will be made by Fote Heavy Machinery for you.
Literately, one is movable while another is fixed. It seems that it is easy to know the differences between the mobile crusher and the fixed crusher. However, a comprehensive comparison of them should be made to help the clients who do not know the mobile crusher and the fixed one.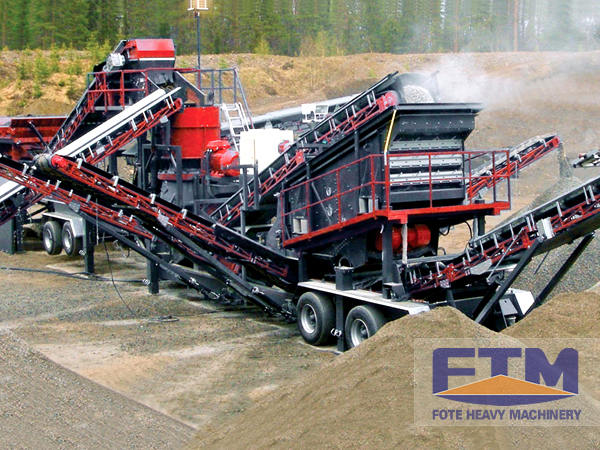 Firstly, in structure, it can be said that the fixed crusher is one part of the mobile crusher because the mobile crusher is a combined movable crusher consisting of the crushing machine, screening equipment, conveyor, and so on. Although the mobile crusher is huge it is very flexible to move, which is a major feature of the mobile crusher. Meanwhile, the mobile crusher can be combined with different machines, in other words, it can be customized according to different requirements of clients. Our clients can select the crushing machines on their own, including the cone crusher, jaw crusher, impact crusher, and so on. Certainly, our clients can select the mobile crushers with different portable methods and model numbers according to their different requirements in output and the working environment, such as the rubber-tyred mobile crusher, the crawler mobile crusher, the large-scale mobile crushing station, the small mobile crusher, etc.
Certainly, with the introduction of so many advantages of the mobile crusher, we do not mean that you are encouraged to purchase the mobile crusher instead of the fixed crusher. The fixed crusher also has its superiority. Firstly, in price, the fixed crusher is much cheaper than the mobile crusher. Besides, if your material can be gotten at the quarry where it is going to be crushed, it is unnecessary to purchase a mobile crusher with too much cost. If you purchase a fixed crusher, a lot of investment can be saved. So why don't you do it?
In a word, by knowing the differences between the mobile crusher and the fixed crusher can you select the proper crushing machines for your production line.