The mobile crushing station is a kind of crushing and screening equipment developed recently. As a professional stone crushing production enterprise, we, Fote Heavy Machinery, have lot of experience in technique. The mobile crushing station made by us is widely used in the post-disaster reconstruction, the reconstruction of the backward residential areas in the city, the road construction, and so on. The mobile crushing station is also very welcomed abroad, which has been praised a lot by many clients. There are several kinds of types of mobile crushing machines. Next, in brief, the mobile jaw crusher is introduced to you by Fote: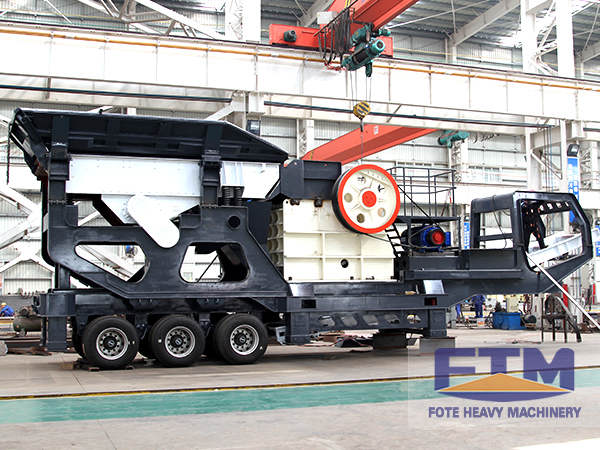 There are many applications and features of the mobile jaw crusher. With the usage of the mobile jaw crusher, it is unnecessary to install the base for the machines, which can shorten the time for transport, because it can directly be used solely. Certainly, our clients can be provided with diverse allocations according to their requirements and the types of the materials ready to be processed. All the requirements of the users of mobile jaw crushers can be met by us. The mobile jaw crusher has the reasonable and compact layout. It is so flexible that it excels in moving into the certain area because it has the automobile chassis which is quite high above the ground and its turning radius is small.
With the flexibility and the reasonable allocation, the mobile jaw crusher can be used solely or it can be used with other crushing systems. The diesel generator, according to the allocation, can decrease the material transport cost. By the usage of the mobile jaw crusher, the transport cost of the material can be greatly decreased.
The mobile jaw crusher is a new kind of building waste crushing equipment, which is mainly used in the process of the materials in metallurgy, chemical engineering, especially in the operation in highway, railway, and electric power project. The clients can adopt different kinds of types of allocation according to the material and the production scale.