The cone crusher, as an equipment, has been welcomed consistently. The clients who have bought it both think that it has the excellent quality in the crushing machinery industry. The effect of a nice equipment is very obvious. The clients who need to purchase the cone crusher always consult us about it in advance and make a reservation.
In brief, the four safety devices of the cone crusher are going to be illustrated to you. In the usage process of this kind of equipment, clients should pay much attention to it.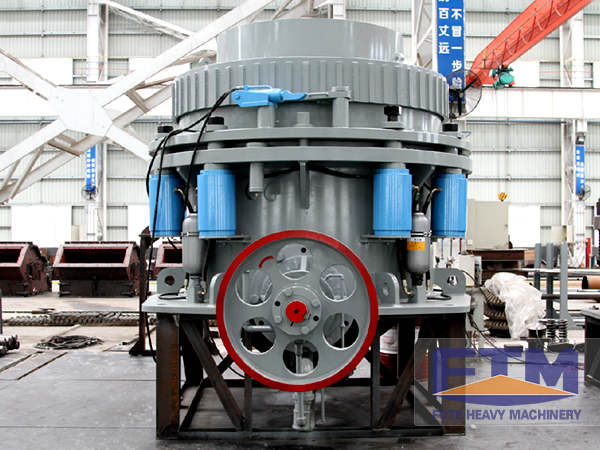 1. Dust-proof Device
In the operation process, in general, the secondary and fine cone crushers generate more dust than coarse cone crushers like the gyratory crusher do. Therefore, there should be a complete dust-proof device. Recently, most of the secondary and fine crushers adopt the water-proof system.
2. The Lubrication of the Machine
Each friction surface of the cone crusher is circularly lubricated with thin oil. Thin oil is sent into the machine from the oil hole at the end of the center sleeve. While thin oil is going into the thrust plate of the eccentric sleeve it is going into each slot to lubricate the thrust plate. In turn, thin oil lubricates the center hole of the thrust plate, the internal and external surface of the eccentric sleeve, the back of the center hole on the main axis. Meanwhile, each friction surface is also lubricated. Finally, after the lubrication of the spherical bearings and the bevel gear, the oil is discharged from the oil outlet. There is another special oil way for the circular lubrication of the transmission bearing through feeding and discharging the oil.
3. The Insurance Device of the Machine
There are 16 groups of springs sitting as a circle on the rack, which is called the insurance device of the cone crusher. If the useless matter is going into the crushing cavity, the fixed cone and the support ring will be lifted by the springs and they are compressed to enlarge the distance between the surfaces of the movable cone and the fixed cone, which can make the useless matter be discharged from the outlet and can prevent the cone crusher from damage. When the risk has been gotten rid of, the springs will be replaced.
4. The Adjustment of the Outlet
The hydraulic cylinder plays a very important role in the adjustment of the ore outlet. In the hydraulic system, the energy accumulator can be used to make up the leakage and can be used as a buffer.