The rod mill has many features, such as mature and reliable production technique, less auxiliary devices, simple process, and so on. Ore can be ground by the rod mill by the steel bars' pressure acting on it. While ore is being ground and crushed by the steel bars, the steel bar rubs not only the ore but also the other steel bars and lining plates. Therefore, we should be strict with the materials of the rod mill's lining plate and the steel bar.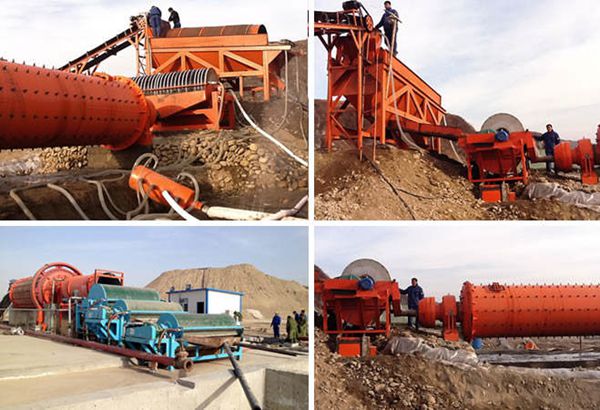 The steel bar of the domestic rod mill is mainly made of round steel produced from steel mills. If this kind of material used to make steel bar hasn't been processed at all, it will be of low hardness and the steel bar may break off or the steel bars will not be uniform. In the production process, if it happens, the rod mill should be stopped to be cleaned and examined. Otherwise, it will have a bad effect on the operation ratio of the rod mill and the production capacity of the mineral processing plant. Thus, it is very important to select the steel bar's material, which is of high hardness and wear-resistance. According to the research, the hardness and wear-resistance of the steel bar are obviously higher if the round steel has been processed with the strict heat treatment, which can prolong its service life. Thus, the processed round steel can be used as the nice material for the steel bar of the rod mill.
The material of the rod mill's lining plate is as important as the steel bar's material. In the ore grinding process, the lining plate is frequently hit by ore and steel bars so that it should be of high wear-resistance. There are some domestic lining materials, such as stone, high manganese steel, alloy steel, wearable rubber, etc. Stone material is of low price and wide sources but it is of low wear-resistance. High manganese steel and alloy steel are of high wear-resistance but they are heavy, which will increase the load of the rod mill. Besides, it is not convenient for the installation. The wearable rubber is of less weight, less noise, low energy consumption, high wear-resistance, high corrosion resistance, and so on. But, it has poor high temperature resistance. However, with the improvement of the wearable rubber in high temperature resistance, the wearable rubber is increasingly welcome.
With the advanced production techniques, Fote produces high-quality rod mills for you. The material used to make rod mill's steel bar is of high hardness and high wear-resistance. Besides, the lining plate of the rod mill made by Fote is made from the international famous wearable rubber, which is of less weight, longer service life, high temperature resistance, etc. As you can see, the one with lots of advantages is just the rod mill made by Fote!