In the past year, we, Fote Heavy Machinery, have signed many purchase contracts of the mobile crushing stations. And the turnover has broken the historical record again.
As the rock and construction waste crushing equipment, developed by Fote itself, the rubber-tyred mobile station has been welcomed by the clients for a long time. Because of it, the crushing operation is becoming more convenient, which can remove the obstacles of the crushing site, environment, transportation. Besides, it is more flexible to match the crushing line. According to the coarse crushing system, fine crushing system, and the screening system, by the combination of different kinds of machines, we can provide the clients with the customized production line. Compared with the fixed production line, the rubber-tyred mobile crusher, made by Fote, is just like a small and medium movable crushing process plant, which can offer the simple and excellent customized solution project to the clients.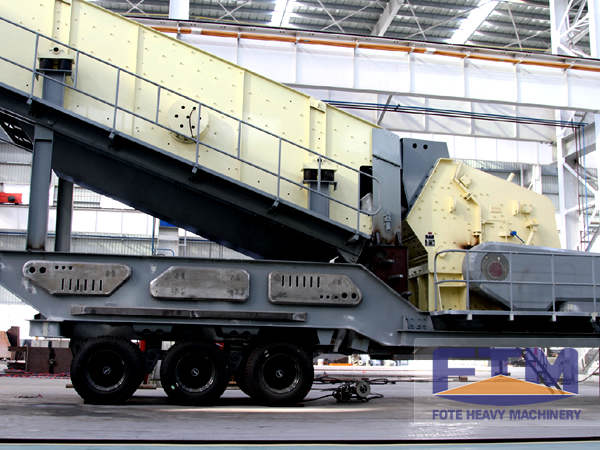 According to the expert in our research center, the rubber-tyred mobile station is flexible and of a variety of combination types. In addition of these, this machine itself is of excellent property. The rubber-tyred mobile crusher, equipped with the machines of Fote, including the crushing machines, vibrating screens, feeders, is very stable and reliable. As for the support part, it adopts the full hydraulic lift method, which is flexible in operation. Besides, it can be of full automatic control.
Recently, there are many kinds of rubber-tyred mobile crusher of Fote, mainly including the mobile jaw crusher, mobile impact crusher, mobile cone crusher. Meanwhile, according to the working sites of the clients, the materials, the particle shapes and sizes, we can provide the clients with the customized mobile crushing stations, which can meet the requirements of different clients.