In recent years, with the constant development of some infrastructure like water conservancy, the construction waste in our country is increasing constantly, which will make people pay much more attention to the construction waste processing equipment because it can meet the requirement in resources protection and environmental protection. Waste recycling is beneficial to nation and individual and it can bring much benefits to enterprises. The construction waste processing equipment made by Fote Heavy Machinery has been sold to many countries, which has been highly praised by the users from everywhere in the world. With the high-quality products and our complete service, we have the the superiority in the market, in order to create the first-class product.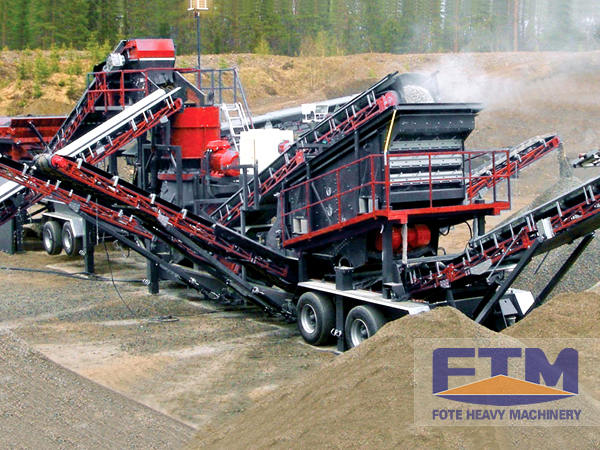 The mobile crushing station is a comprehensive and special machinery, which can process construction waste on site and can conduct the cyclic utilization. It is flexible and convenient and fast in the operation. It can be used alone, which can decrease lots of technical problems and greatly lower the requirement in material. Besides, it consists of crushing and screening equipment, which can greatly save cost, which is beneficial to the rapid production.
2. Jaw Crusher and Impact Crusher
They are mainly used to process the construction waste and screen materials, including the crushing and separation of steel bar, cement, and other materials. With the vibrating screen and belt conveyor and feeder, they can conduct the efficient production. Thus, there should be higher request in manufacturers' service and technical standard.
3. Sand Production Ling
After the screening of the material, the sand production line should be used in crushing cement block. Our sand production line can be used to process various materials. The parts of the machine can be adjusted with our experienced techniques to ensure the machine in the safe operation.